Workplace Lockers at Bolton Council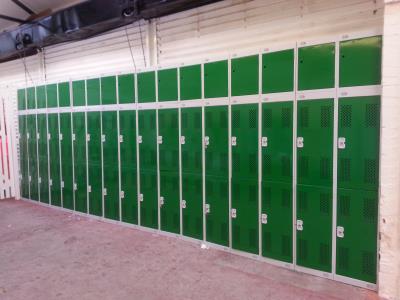 At 3D Lockers we have the knowledge and experience to provide storage solutions for a wide range of environments including workplaces and staff rooms. Our steel lockers and quarto lockers were the ideal choice for our latest project.
Nearing the end of 2014 3D Lockers were called in to Bolton Council to do a site survey and measure a room for new staff lockers. The site at Bolton Council was the environmental services depot at Ellesmere Road, of which the workers there serviced and maintained public spaces such as parks, street care and cleaning, grass cutting and verge maintenance.
The brief from the council was that they needed three long runs of lockers on separate walls to cater for nearly 100 members of staff. The lockers needed to be big enough to store wet clothing, jackets, boots and lunchboxes and one run of lockers needed to accommodate an extra compartment to store bike helmets in for workers who motor biked in to work.
Two door perforated metal lockers were supplied with green doors and camlocks. Door perforations are great for if wet clothing is going to be stored inside, allowing for ventilation and drying. An additional shelf was added to the top of each compartment for separating out boots or bags and coat hooks were fitted underneath. All lockers had sloping tops fitted.
The staff lockers were supplied mainly in nests of three meaning the lockers are joined together in manufacture saving on installation time and cost. Our installation team were unable to carry out the standard procedure of battening the lockers to the wall, (this needed to be done due to some electrics running along the wall) so metal straps were made up to separate the lockers away from the wall and prevent from being pulled forwards.
Our quarto lockers were fitted on top of one run of lockers. These mini lockers were the same width and depth to fit perfectly above creating an extra compartment for storing away bike helmets. The keys were keyed alike for the top locker and quarto locker above so the same keys would open both. Number plates were supplied along with matching numbered key fobs which can be safety pinned to the member of staff.
The installation was completed over two days and the Council and its staff are delighted with the end result.